iOS, android, & hybrid mobile app development
Unlock maximum value for your customers with high-quality mobile applications that help improve your business processes, and compete with the industry's finest.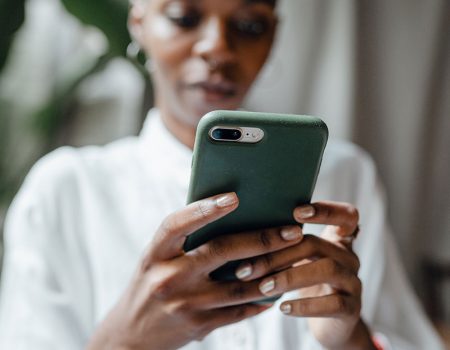 By 2022 annual mobile app downloads are projected to reach 258 billion
Businesses like yours need to bank on this asset, now more than ever. Whether you are planning to launch a new app, or improve an existing one, our skilled mobile experts work with you to design, develop, & scale successful digital apps for your customers.
Build your competitive advantage through mobile solutions
Use the right tools and methodologies to develop quality products that address market needs and align with your business objectives to deliver maximum ROI.
Launch new products & services
Take new MVPs and services to market with apps that account for more than 90% online time on smartphones
Collect and process valuable data
Leverage data to craft exceptional user experiences, efficiently tailored to their likes and preferences
Boost engagement & loyalty
Avail features like push notifications to send out relevant marketing messages to boost customer retention
Sell your product with greater ease
Use next-gen mobile solutions to sell better to over 2.14 billion (expected) global digital buyers in 2022
We follow a simple four-step process for a successful MVP delivery.
Initiation
Define a project vision and have a complete tech consultation to deliver the latest, high-quality & most optimized solutions.
Design
Analyze business requirements, make architectural decisions & craft elegant UI/UX designs to build a working prototype.
Development
Maintain strong standards for quality control and create highly engaging mobile applications for native and hybrid platforms.
Delivery
To ensure client satisfaction, deploy the designed application and maintain it with 24/7 maintenance and support.
We understand that a product is never fully done. Continuous iterations are essential to enhance product experience and retain users. 
As users' behaviors shift with the rapidly evolving industry trends, your products need to be built on future-proof, robust technologies that help you keep pace with what's next. We stand by your side in your product development journey, solve technology challenges with continuous iterations and never stop the process. 
Build apps tailored for your business needs
Speed up mobile app development using the right technologies and best coding practices that ensure your apps are of excellent quality, high-performing, and intuitive.
iOS
Create purpose-built iOS applications with a future-centric approach using languages like Swift or Objective-C
Android
Harness maximum potential of Android platform & accelerate the performance of custom apps written in Java or Kotlin
Hybrid
Leverage 'one-code-fits-all' functionality & reduce development costs with hybrid apps built in Flutter or React-Native
Backend
Develop a sound software architecture for your apps that marry business logic with tech expertise to deliver robust APIs and SDKs.
FAQs about mobile app development
Not sure how mobile experts can bring the value to your business? Check out some of the most common questions asked by the clients.
That's easy. We use a lean startup approach to app development at TheTrisun. This means that the MVP of your app can be ready to go to market within 4 to 6 months. However, this time duration may vary depending on the nature, scope, and complexity of your project.
Let's be honest – it's impossible to put a fixed price on the development of a mobile app. It will vary greatly based on the number of resources required to execute the project, the development duration, and the scope and complexity.
Considering iOS and Android, both, are dominating the market at this time, you'll want to develop the app in both, ultimately. If that's the case, we ideally suggest going for a cross-platform mobile application. But if you want to go for one, in the beginning, you'll have to conduct serious market research and see what kind of user-base you want. Then, you can make an informed decision.